Laboratory Information Management System (LIMS) for Failure Analysis Labs
Quartz FA-LIMS is the ideal LIMS system for Failure Analysis and Materials Characterization Labs
Unlike other commercial Laboratory Information Management Systems (LIMS), which focus primarily on chemical analysis and healthcare, Quartz FA-LIMS is designed to address the image-intensive nature and complex reporting requirements of Failure Analysis and Materials Characterization labs.
Overview
Quartz FA-LIMS is a feature rich, highly configurable software package for laboratory management that resides on your servers and saves time for all lab members, customers and management
We configure your LIMS software to match the desired workflow and terminology of your lab
The integration of Quartz PCI software and Quartz LIMS software takes the concept and value of a LIMS system to a level that you cannot develop on your own
Just based on increased Lab productivity, the Quartz FA-LIMS system will pay for itself very quickly
Quartz FA-LIMS + Quartz PCI = Really Moving the Needle on Lab Performance
Easy, fast and accurate uploading of all types of data and analysis results into the Quartz FA-LIMS system
Even more effective with barcode scanners at sample check-in and instruments
Time Stamps — Tracks times by Job, Session, Sample, Instrument and Analyst — provides metrics for Quartz FA-LIMS Lab Management Reports
Quartz FA-LIMS is the only LIMS system that can time stamp all activity of your jobs as they move through your lab
Powerful Report Generator
Different 'flavors' of Quartz PCI for different types of instruments
Click here for more information about Quartz PCI
How to become a Faster & Smarter Lab with Quartz FA-LIMS software
Implement quota system on job requests
Automate routine tasks
Automatically enforce business rules and security
Ensure job requests are completed on time
Keep clients informed with automatic e-mails
Save data in the right place automatically
Keep samples and data organized and at your fingertips
Detailed view of work progress
Generate client and management reports automatically
Monitor KPIs
Identify bottlenecks
Establish best practices
FA-LIMS Laboratory Workflow
"If you can't measure it, you can't manage it!"
Management Reporting
Because the time of each state transition is recorded as jobs pass through the workflow, the Quartz LIMS system can generate detailed laboratory management reports. You can easily generate specific reports to measure everything going on in your lab.
Management Reporting Tool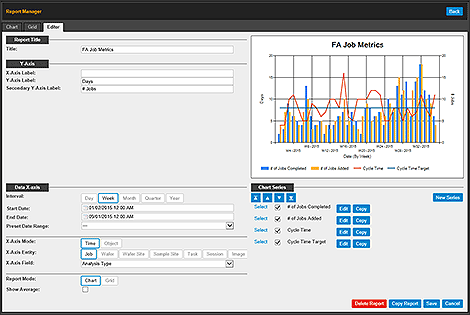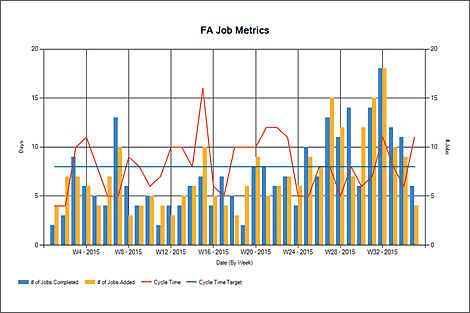 Dashboard — View how your lab is doing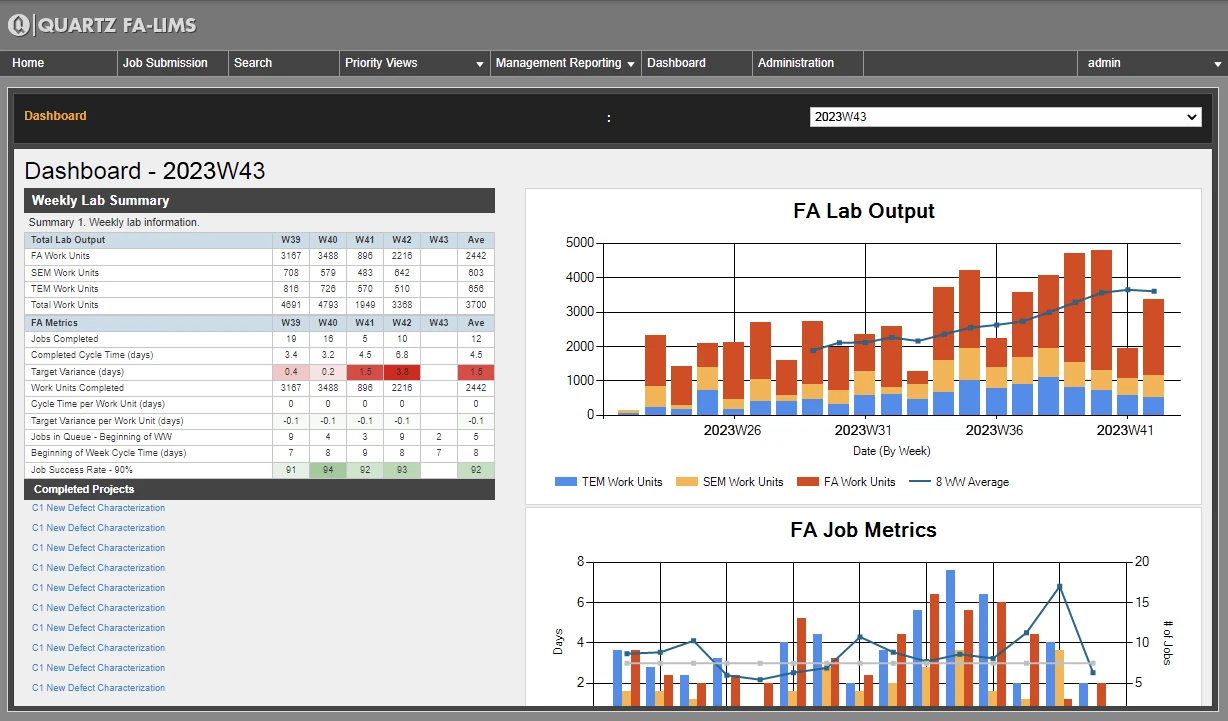 Why work with Quartz?
Quartz FA-LIMS is a framework of processes and software that allows us to provide the "fit" of custom software combined with the cost-effectiveness, speed of deployment, support system and reliability of commercial software and our solid, mature, proven LIMS software platform configured to your exact requirements.
Quartz has deep knowledge and experience with software development, scientific instrumentation and analytical lab workflows.